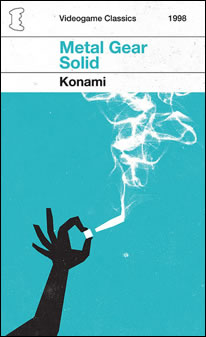 Lors de la publication de ses résultats financiers, Konami annonce fièrement que la dernière aventure de Solid Snake,
Metal Gear Solid 4 : Guns of the Patriots
, s'est vendue à plus de
4,5 millions
d'unités en 2008. Un score plus qu'honorable pour l'un des derniers titres exclusifs à la PlayStation 3, et ce sur sept mois de l'année écoulée.
Enfin, pour terminer cette actualité tout en couleur, je vous propose une illustration d'
Olly Moss
, un graphiste talentueux, qui s'est amusé à réaliser des couvertures de livres, plus précisément de la collection
"Penguin Classics"
, avec pour thème les jeux vidéo. Pour en savoir plus sur son travail, c'est par ici que ça se passe...

Videogame Classics par Olly Moss

Olly Moss.com

Reimagined Game Covers