Dernière ligne droite pour
Zone of the Enders HD Edition
qui refait à nouveau parler de lui. Le
25 mai
prochain,
Kojima Productions
organise un événement en son honneur : le
« Zone of the Enders HD Night Fastest in the Universe Reboot »
au cinéma Shinjuku Wald 9, au Japon.
Sur place, autant vous dire qu'il y aura du beau monde pour tous les fans de Zone of The Enders.
Hideo Kojima
et
Yoji Shinkawa
bien sûr, mais aussi
Noriaki Okamura
(directeur et scénariste),
Shuyou Murata
(co-scénariste et directeur des cinématiques) et
Nobuyoshi Nishimura
(character design d'Anubis et directeur des cinématiques).
Mais ce n'est pas tout, puisque les doubleurs japonais feront également le déplacement :
Kazuhiko Inoue
(Dingo Egret),
Satsuki Yukino
(Ken Marinaris),
Ken'ichi Suzumura
(Leo Stenbuck) et
Miki Yoshino
(ADA).
A cette occasion, les tous derniers détails du jeu seront présentés avec un tout nouveau trailer pour marquer le coup ! Le site de Kojima Productions évoque également une performance en direct. J'imagine qu'il s'agit d'une démo jouable ou peut-être, comme à l'instar du Tokyo Game Show 2011,
les acteurs doubleront en direct leur propre personnage
.
Les billets pour participer à l'événement seront mis en vente sur le site de Konami Style dès le 2 mai 2012. Prix de l'entrée : 3000 yen, soit 28 € environ.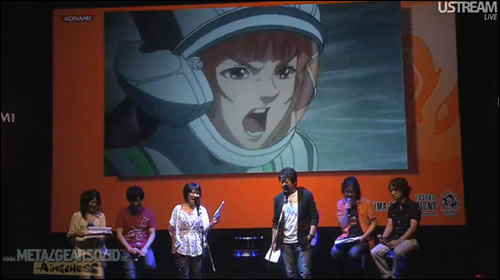 Doublage en direct au Tokyo Game Show 2011

Kojima Productions - Zone of the Enders HD